Sock & Underwear Drive 2019
Now through Friday, May 14, 2019
As part of our 2019 Synod Assembly, we are invited to take part in a sock and underwear drive.
Socks and underwear are among the most requested and least donated items at shelters, free clothing stores, and other charitable organizations. Dignity starts with the basics.  We want to make sure that organizations working in our synod have an ample supply of brand-new socks and underwear to give to their clients.  So start gathering new (still in retail packaging) socks and underwear for men, women, youth, and children.  You may bring them to church before Friday, June 14.  Please place them in the marked box in the Narthex or at the altar during the offering on Sunday mornings.
Pastor Joanne has further challenged our congregation.
Collect 250 packages and Pastor Joanne will rock a mullet.
500 packages and Pastor Joanne will get a mohawk.
750 packages and Pastor Joanne will shave her whole head!
Moroccan Vegetable Ragoût
Serves 3 to 4
Ingredients
1 tablespoon extra-virgin olive oil
1 medium yellow onion, thinly sliced (about 1 ¼ cups)
1 3- to 4-inch cinnamon stick
1 ½ teaspoons ground cumin
2 cups peeled and medium diced (½-inch) sweet potatoes (about ¾ lb.)
1 14- to 16-oz. can chickpeas, drained and rinsed
1 14 ½ oz. can diced tomatoes, with their juices
½ cup pitted green Greek or Italian olives
6 tablespoons orange, preferably fresh
1 ½ teaspoons honey
 8 cups lightly packed very coarsely chopped kale leaves (from about ½ lb. kale)
Kosher salt and freshly ground black pepper
Directions
Heat the oil in a 5- to 6-quart Dutch oven or other heavy pot over medium-high heat.

Add the onion and cook stirring frequently, until soft and lightly browned, about 5 minutes.

Add the cinnamon stick and cumin and cook until very fragrant, about 1 minute.

Add the sweet potatoes, chickpea, tomatoes and their juices, olives, orange juice, honey, and 1 cup water; bring to a boil. Reduce the heat to medium low and simmer, covered, stirring occasionally, until the sweet potatoes are barely tender, about 15 minutes.

Stir in the kale. Cover and continue cooking until wilted and softened, about another 10 minutes.

R

emove and discard the cinnamon stick.

Season with salt and pepper to taste.
Roasted Parmesan Herb Sweet Potatoes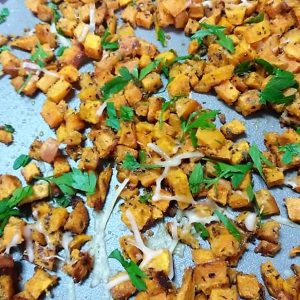 Prep Time: 10 mins
Total Time: 45 mins
Servings: 4
Ingredients
3 tablespoons olive oil
4 tablespoons grated Parmesan cheese
2 teaspoons Italian seasoning
1 teaspoon garlic powder
3  large sweet potatoes, peeled and diced into small cubes
parsley, for garnish (optional)
Directions
Preheat oven to 400ºF. Lightly coat a large baking pan with nonstick cooking spray or line with parchment paper. Set aside.
In a medium bowl, combine olive oil, Parmesan cheese, Italian seasoning, and garlic powder. Add diced potatoes and toss to coat.
Spread potatoes in an even layer onto prepared pan. Bake for 32–35 minutes, or until lightly browned and crispy. Remove from oven and let cool for 5 minutes.
Sprinkle with extra Parmesan cheese and parsley, if desired. Serve immediately.
Sweet Potato Brownie Bites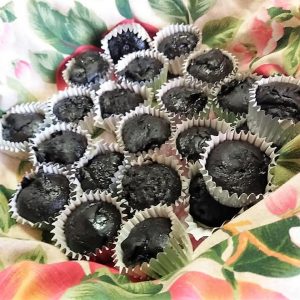 Servings: 24
Ingredients
1 large sweet potato
⅓ cup mini-chocolate chips
⅓ cup hot coffee
2 tablespoons butter (melted)
2 eggs
½ cup light brown sugar
1 teaspoon vanilla extract
½ cup all-purpose flour
½ teaspoon baking powder
¾ cup cocoa powder
½ teaspoon salt
Directions
Preheat oven to 350°.

Place a large sweet potato in a microwave and cook on high for 5 to 7 minutes or until completely softened. Scoop out of the flesh and discard the skin. Set aside 1 cup of flesh

Place the mini-chocolate chips in a bowl. Pour the hot coffee over the chocolate chips and stir to melt the chocolate. Set aside.

In a large bowl, stir together the reserved sweet potato, butter, eggs, sugar and vanilla. Add the chocolate coffee mixture to the sweet potato mixture and stir to combine.

In a separate bowl, whisk together the flour, baking powder, cocoa powder and salt. Add the dry ingredient mixture to the sweet potato mixture and stir just to combine.

Using a mini muffin tin, fill the cups ¾ of the way with brownie mixture. Place in the oven to bake for 8 minutes.
Tip
Heat up leftover coffee or espresso.

Alternatively, roast the sweet potato until fork tender, for a sweeter, more developed flavor.
Apple Cranberry Coleslaw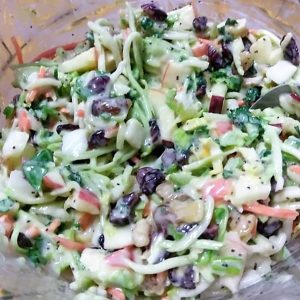 Prep Time: 10 minutes
Total Time: 10 minutes
Servings: 12 – 16
Ingredients
1 – 14 oz. bag 3-color coleslaw mix
1 large apple chopped
½ cup dried cranberries
½ cup chopped walnuts
4 green onions sliced
Dressing *
¾ cup low-fat mayo
¾ cup plain yogurt (not Greek)
6 tablespoons honey
¾ teaspoon dried, ground ginger
Directions
 Combine coleslaw ingredients in a large bowl.
In a small bowl, combine dressing ingredients and mix well.
Pour dressing over coleslaw and stir until evenly coated.
* For a less creamy coleslaw, use ½ c. mayo, ½ c. plain yogurt, ¼ c honey, and ½ tsp. ginger.
End of Summer Pasta Salad*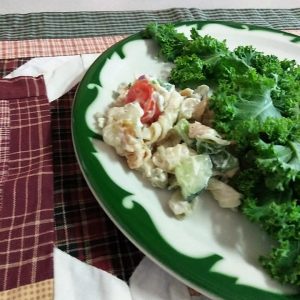 Ingredients
1 package (16 oz.) tri color fusilli or rotini pasta
¾ cup mayonnaise
¾ cup Greek yogurt
1 (1 oz.) package powdered ranch dressing mix
1 medium cucumber, quartered and thinly sliced
2 cups broccoli florets, roughly chopped
2 bell peppers, chopped
1 cup cherry tomatoes, halved
¼ cup red onion, thinly sliced
½ cup cheddar cheese, sliced into matchstick or grated
½ teaspoon garlic powder
Directions
Bring a large pot of salted water to a boil and cook pasta according to package instructions.

2 minutes before pasta is fully cooked, add broccoli and cauliflower to the pot. Strain pasta and vegetables and set aside.

Add mayonnaise, Greek yogurt, ranch mix, and garlic powder to a large serving bowl and whisk to combine.

Add pasta, cooked and raw vegetables (broccoli, cauliflower, tomatoes, red onion, bell pepper and cucumber), and cheese and toss to combine.

Cover and chill in fridge until you're ready to serve!
*from the recipe collection of Paula Tippery
Italian Sausage and Veggies in One Pan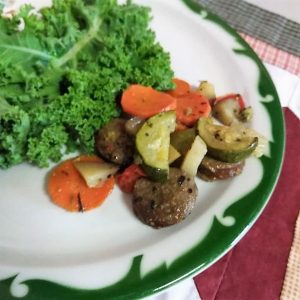 Ingredients
2 large carrots – 2 cups
2 red potatoes – 2 cups
1 small-medium zucchini – 2 ⅓ cups
2 red peppers – 2 cups
1 head broccoli – 1 ½ cups
16 ounces smoked Italian turkey or chicken sausage
Seasonings
½ tablespoon EACH: dried basil, dried oregano, dried parsley, garlic powder
½ teaspoon EACH: onion powder, dried thyme
⅛ teaspoon red pepper flakes (optional)
⅓ cup Parmesan cheese freshly grated (optional)
4 ½ tablespoons olive oil
Fresh parsley, salt and pepper
Directions:
Preheat the oven to 400°. Line a large sheet pan with parchment paper or foil (easy to clean-up) and set aside.

Prep the veggies. *

Peel and very thinly slice the carrots. Wash and chop the red potatoes. You want the pieces quite small here. (I halve the potatoes and then cut each half into 10-12 pieces.)

Halve the zucchini and then cut "think coins of zucchini. Coarsely chop the broccoli. Remove the stems and seeds from the peppers and chop into medium-sized pieces. Chop the sausage into thick coins.

Pour all the veggies and sausage on the sheet pan.

In a small bowl combine all of the seasonings and salt and pepper if desired (I use about ⅛ teaspoon pepper and ½ teaspoon salt with the olive oil. Stir to combine.

Pour the seasonings and oil mixture on top of the veggies and sausage and thoroughly toss to coat.

Place in the heated oven for 15 minutes. Remove and toss around the veggies and sausage and return to the oven for another 10-20 minutes or until veggies are crisp tender.

Remove and top, if desired, with freshly grated Parmesan cheese and fresh parsley.
*It is important to prep the veggies according to directions to ensure they all cook at the same time.
"Don't Knock It Until You Try It" Beet Cake!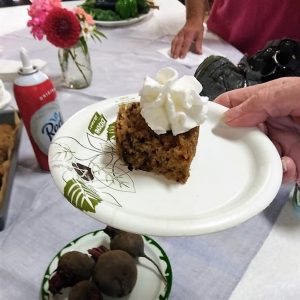 Prep Time: 20 mins 
Total Time: 1 hour 5 minutes
Servings: 12
Ingredients
4 eggs
2 cups sugar
2 cups flour
2 teaspoons baking powder
1 ½ teaspoon baking soda
1 teaspoon cinnamon
2 teaspoons vanilla
3 cups shredded fresh beets
1 cup chopped walnuts
Directions

Heat oven to 350°, grease and flour 13×9 baking pan.

Beat eggs, sugar and oil until light and fluffy.

Sift together flour, baking powder, baking soda and cinnamon.

Add to egg mixture and mix well.

Add vanilla, beet, and walnuts.

Beat for 1 minute on medium speed.

Pour into pan, bake for 45 minutes, or until a pick comes out clean.
Carolina Kale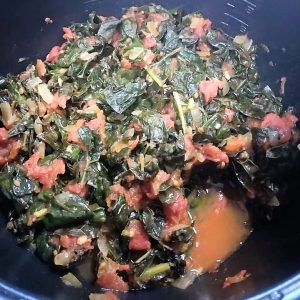 Ingredients
1 onion
2 Tbsp. olive oil
1 Tbsp. cumin
1 tsp. salt
4 or 5 cloves garlic
1 tsp. tabasco or ½ tsp. red pepper flakes
2 c. canned or 3 c. fresh tomatoes
1 bunch kale, washed and diced (about 1 ½ pounds)
Directions
Sauté together: onion, olive oil, cumin, salt, garlic, and tabasco or red pepper flakes.
Add tomatoes and cook for 5 to 7 minutes until tomatoes are incorporated into the onion mix.
Add kale and cook for another 10 to 15 minutes until kale is tender.
Serve over rice or potatoes.
Zucchini-Kale Muffins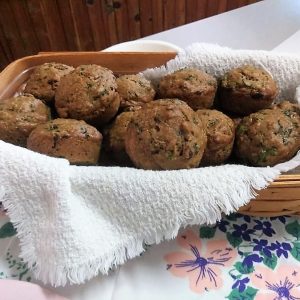 Makes 12 standard-sized muffins.
1 ½ c. grated zucchini (or yellow summer squash)
1 c. steamed or cooked kale, roughly chopped
2 eggs
1 c. sugar
1 tsp. vanilla
¼ c. oil
¼ c. applesauce
1 pinch salt
2 tsp. baking soda
3 c. flour (white, wheat or mixed)
1-2 tsp. cinnamon
1 c. chopped nuts and/or raisins (optional)
Preheat oven to 350°. Either oil muffin tins or put in paper cupcake liners. In large bowl, whisk eggs. Add sugar, vanilla, oil, applesauce and mix well. Fold in zucchini and kale and mix in . In another bowl, mix dry ingredients (except nuts/raisins.) Add dry ingredients to wet ingredients and mix just until combined. Fold in nuts/raisins, if using. Fill muffin cups 2/3 full with batter and bake for 25-30 minutes (or until muffins are springy to touch.) Let cool 20 minutes before removing from pan.