AB-Yes! (formerly known as Sunday School/Confirmation)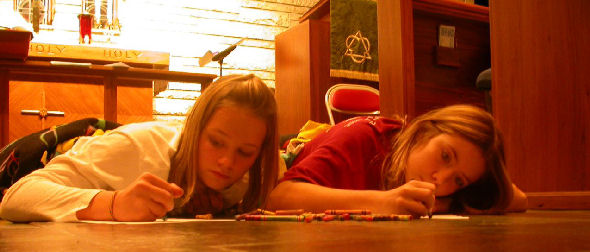 AB–Yes! is an alternative to traditional confirmation curriculums. No more Wednesday evening classes every week for three years. No more "longer & later" curriculums that stretch confirmation out over such an extended amount of time, learning is lost.
AB–Yes! is designed to fit the needs of you and/or your family. Anyone any age can enroll (we recommend participants are not younger than third grade, unless it is for our first communion component). You can enroll as many times as you wish. The program is a process, the summation of which is an opportunity for you and/or your child/children to (A)ffirm your (B)aptism – in other words, you are  saying "Yes!"
AB-Yes! partners a Lutheran Curriculum (Here I Stand) with the church lectionary (Our Sunday morning bible readings). Although the curriculum stretches out over three years, you can take it as fast or as slow as you'd like. You will earn points from:
Attending Sunday morning classes when they are offered

Attending alternative classes when they are offered

Attending designated worship (in person or online) and filling out specific response sheets

Completing online coursework

Service projects

Volunteering in worship or at church

Participating in Sunday Fun-Days

Mission Trips or Church Outings
Each enrollee will need to earn 220 points out of a possible 400. This offers you a great deal of flexibility to choose what works for you, within specific parameters. See the attached documents for specific details.
(Students who have participated in previous confirmation classes will be given credit for prior learning.)
Educational Components of the Program
(5 points per, 120 points total required)
Service Project Opportunities
(5 points per, 50 required)
Worship Participation Opportunities
(5 points per, 50 required)
AB Yes! Worship Assignment
Lord's Prayer (Our Father, who art in heaven)