Live Stream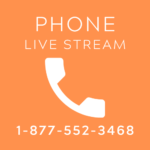 The next live worship video stream will appear on the screen below when we go live.
Recently archived videos can be found by clicking on the down arrow (˅) in the upper left-hand corner of this player.
View our previous videos » link also includes selected previous videos going back to Christmas 2017.
Bulletins for Worship Including Music
Live Stream Attendance Info Form
Please let us know a little more about who you are and how you came to worship with us today!