Zucchini-Kale Muffins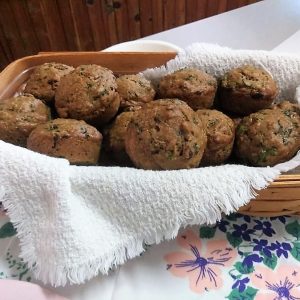 Makes 12 standard-sized muffins.
1 ½ c. grated zucchini (or yellow summer squash)
1 c. steamed or cooked kale, roughly chopped
2 eggs
1 c. sugar
1 tsp. vanilla
¼ c. oil
¼ c. applesauce
1 pinch salt
2 tsp. baking soda
3 c. flour (white, wheat or mixed)
1-2 tsp. cinnamon
1 c. chopped nuts and/or raisins (optional)
Preheat oven to 350°. Either oil muffin tins or put in paper cupcake liners. In large bowl, whisk eggs. Add sugar, vanilla, oil, applesauce and mix well. Fold in zucchini and kale and mix in . In another bowl, mix dry ingredients (except nuts/raisins.) Add dry ingredients to wet ingredients and mix just until combined. Fold in nuts/raisins, if using. Fill muffin cups 2/3 full with batter and bake for 25-30 minutes (or until muffins are springy to touch.) Let cool 20 minutes before removing from pan.
Banana Kale Smoothie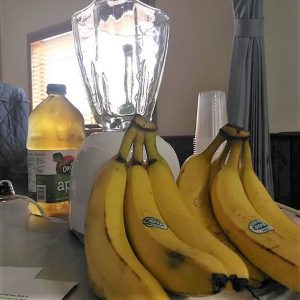 1 serving
1 ripe, medium banana
1 c. kale leaf – torn from stem
1 ½ c. water or apple juice
Put all ingredients into a blender and blend until kale is liquidized and mixture is well-blended.
Options: Substitute milk, soy milk, or almond milk for the juice, for a creamier smoothie. Add other fresh fruits in season, such as berries, grapes or melon.
Confetti Corn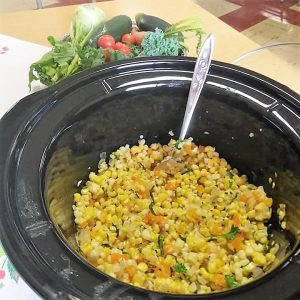 Ingredients
2 Tbsp. good olive oil
½ c. chopped red onion
1 small orange bell pepper, ½" diced
2 Tbsp. unsalted butter
Kernels cut from 5 ears yellow or white corn (4 cups)
1 ½ tsp. kosher salt
1 tsp. freshly ground black pepper
2 Tbsp. julienned fresh basil, minced fresh chives, and/or minced fresh parsley
Directions
Heat the olive oil over medium heat in a large sauté pan. Add the onion and sauté for 5 minutes, until the onion is soft. Stir in the bell pepper and sauté for 2 more minutes.
Add the butter to the pan and allow it to melt. Over medium heat, add the corn, salt, and pepper and cook, stirring occasionally, for 5 to 7 minutes, until the corn just loses its starchiness.
Season to taste, gently stir in the basil or other green herbs, and serve hot.
Italian Cauliflower Salad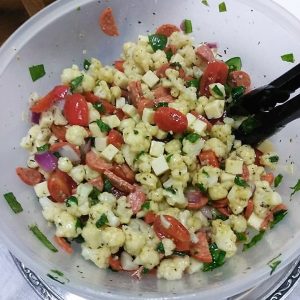 Ingredients
1 lb. cauliflower florets
8 oz. mozzarella cheese, diced
1 c. grape tomatoes
1 c. spinach, washed and dried
8 oz. pepperoni slices
¼ c. sliced red onion
½ c. green bell peppers
For the dressing
½ c. olive oil
Juice of 1 lemon
1 tsp. salt
1 tsp. oregano
1 tsp. basil
1 tsp. rosemary
1 clove garlic, minced
Chop the cauliflower into bite-sized pieces and place in a large microwave-safe bowl. Add 2 Tbsp. of water, cover with plastic wrap, and microwave for 3 minutes or until as tender as you'd like. Drain the liquid from the bowl.
Slice the grape tomatoes in half. Chop the spinach into small pieces. Cut the pepperoni slices in half.
Add the tomatoes, spinach, pepperoni, mozzarella, onion, and peppers to the bowl with the cauliflower.
In a small bowl, whisk together the olive oil, lemon juice, salt, oregano, basil, rosemary, and garlic until well combined. Taste and add additional lemon, herbs, or salt as desired.
Pour the dressing over the cauliflower salad and toss to coat.
Cover in the bowl and refrigerate for 2 hours to allow the flavors to meld before serving.
Egg Roll in a Bowl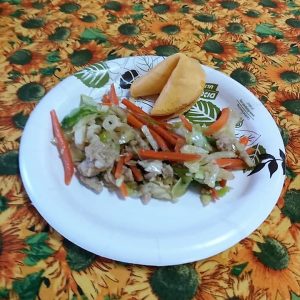 4 to 6 servings
Ingredients
1 tsp. minced ginger
4 ½ c. packaged coleslaw mix (shredded cabbage and carrots)
½ c. shredded carrot
3 medium cooked scallions
3 Tbsp. low sodium soy sauce
1 ½ tsp. sesame oil
1 ½ tsp. sugar
1 lb. uncooked ground chicken breast, (Or ground pork, ground turkey, or turkey sausage)
Directions
Brown the sausage/meat in a medium non-stick skillet until cooked all the way through and then add the ginger.

Add soy sauce, sugar, and sesame oil.

Add full bag of coleslaw, stir till coated with sauce.

Add ½ bag of shredded carrots, still till coated with sauce.

Add chopped scallions, mix thoroughly and cook on medium heat until the coleslaw had reduced by half.
Quinoa Tabbouleh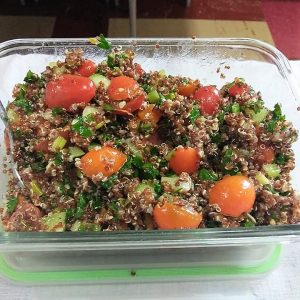 1 c. quinoa
½ tsp. salt
1 ¼ c. water
Bring the quinoa, the salt and the water to boil in a saucepan. Once it boils, reduce the heat, and simmer until tender, about 15 minutes (cook until the water is absorbed.) Cool it!
1 large cucumber cut into ¼" pieces
1 pint cherry tomatoes, cut in half (or use several large tomatoes and just chop)
1 c. parsley, chopped
1/3 c. fresh mint, chopped
3 or 4 green onions, sliced or about ½ c. chopped onion 
Mix together all the vegetables in a bowl, and pour on the dressing.
¼ c. fresh lemon juice
¼ c. olive oil
1 clove garlic, minced
Salt and pepper to taste 
Mix together these dressing ingredients and pour over the vegetables. When the quinoa is cool stir it into the vegetables. Mix well.
There are many optional ingredients that you can add, such as feta cheese, or beans to make this salad healthier!
Tomato Cucumber Pasta Salad with Avocado
Dill & Garlic Vinaigrette
Ingredients
¾ c. extra virgin olive oil
6 Tbsp. red wine vinegar
2 tsp. sugar
1 large clove garlic, minced
1 ½ Tbsp. fresh dill, minced
1 ½ tsp. dried oregano
¾ tsp. garlic powder
½ tsp. salt
Fresh ground black pepper
Directions
Place all ingredients in a jar and shake until incorporated.
Pasta Salad
Ingredients
½ lb. pasta
1 lb. tomatoes
2 large or 2 small cucumbers
½ c. Kalamata olives, drained, pitted and sliced
½ c. feta cheese
2 to 3 avocadoes, diced
2 Tbsp. fresh dill for garnish
Directions
Cook pasta according to package directions.
In a large bowl combine all salad ingredients.
Toss with 2/3 vinaigrette until everything is evenly coated. Reserve remaining 1/3 to add before serving.
Cover and chill for 4 hours.
Remove from fridge, add sliced avocado and remaining vinaigrette.
Cantaloupe Salad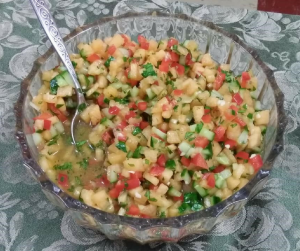 Prep Time: 15 min • Serves 6 to 8
Ingredients
4 cups diced cantaloupe
1 large cucumber, seeded and chopped
1 large jalapeno, seeded and chopped
1 large red bell pepper, seeded and chopped
1 large lime, zest and juice
2 cloves of garlic, minced
1 teaspoon sugar, to taste
½ teaspoon salt
1 tablespoon olive oil
½ cup chopped cilantro
Directions
Place all ingredients in a large bowl. Toss to mix, and taste for balance.

Add sugar to taste if the cantaloupe is very tart or bland. 

Store, tightly covered, for up to 3 days in the refrigerator.
Note: for a taste of summer, savor this sweet, tangy salsa atop fish tacos and simple grilled chicken, or scoop it with your favorite tortilla chips for a snack.
Ruth's Cabbage Salad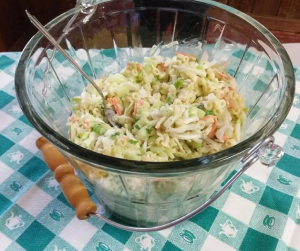 2 cups chopped cabbage
1 cucumber, peeled and chopped
1 cup mayo
½ cup sugar
1 package 8 oz. macaroni rings
1 bunch of green onions
1/3 cup white vinegar
Chop all vegetables and mix the dressing ingredients. Mix all together.
Nance's Parmesan Roasted Zucchini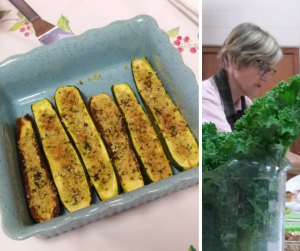 Active: 25 min • Total: 45 min • Serves 6 to 8
Ingredients
6 medium zucchinis (2½ to 3 pounds total)
Good olive oil
Kosher salt and freshly ground black pepper
1 tablespoon minced garlic (3 cloves)
2 tablespoons minced fresh parsley leaves
2 tablespoons julienned fresh basil leaves
½ cup freshly grated Italian Parmesan cheese
¾ cup panko (Japanese bread flakes)
Directions
Preheat the oven to 425°.

Trim the stem end of the zucchini, cut them in half lengthwise and scoop out a small channel of seeds with a regular teaspoon. Place the zucchini in one layer on a sheet pan, brush generously all over with olive oil and turn the zucchini cut-side down. Sprinkle with 1 teaspoon salt and roast for 12 to 15 minutes, until just tender but still firm when tested with the tip of a small paring knife.

Meanwhile, make the bread crumbs. In a medium bowl, combine the garlic, parsley, basil, Parmesan, 1 teaspoon salt and

½

teaspoon pepper. Add the panko and 3

½

tablespoons of oil and mix well.

Turn the zucchini cut-side up and spoon a heaping tablespoon of the panko mixture evenly on each zucchini. Bake for another 8 to 10 minutes, until the panko is crispy. Serve hot, warm or at room temperature.