W-ELCA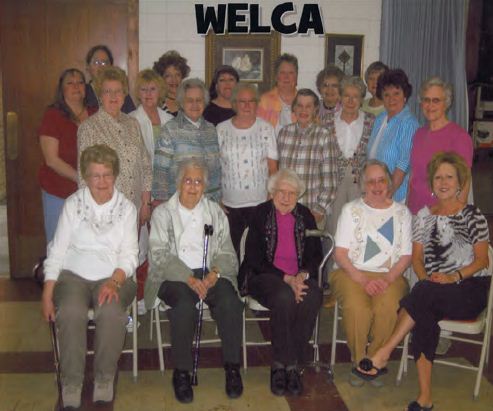 "Women of the ELCA, the women's organization of the church, has thousands of participants in thousands of congregations. Together we are committed to growing in faith, affirming our gifts, supporting one another in our callings, and engaging in ministry and action that promotes justice and wholeness for all people."
The Women of the Evangelical Lutheran Church of America (W-ELCA) is one of the longest-running organizations at Our Savior's. They have a rich history of serving the Lord and providing generous gifts of time, talent, and money to support Our Savior's. W-ELCA is perhaps best known for their wonderful work in the kitchen, serving meals for many potluck events.
Meetings are usually held on the third Thursday of the month. All women of Our Savior's are members of W-ELCA. If you have an interest in supporting any of the many causes of W-ELCA your contribution of time and talent and fellowship would be welcomed.
W-ELCA Statement of Purpose
As a community of women, created in the image of God, called to discipleship in Jesus Christ and empowered by the Holy Spirit, we commit ourselves to grow in faith, affirm our gifts, support one another in our callings, engage in ministry and action, and promote healing and wholeness in the church, the society, and the world.
2023 W-ELCA Meeting Schedule
February 2023 – No Meeting          
March 16, 12:00 noon – 'Tired & Retired' Potluck
April 20, 1:30 pm – Regular Meeting
May 18, 9:30 am – Breakfast Meeting
June 15, 1:30 pm – Regular Meeting
July 5, 6:00 pm – Dorcas Potluck
August 10 & 11 – Rummage Sale
September 21, 9:30 am – Breakfast Meeting
October 19, 1:30 pm – Regular Meeting
November 16, 1:30 pm – "Thank Offering"
December 14 – Christmas Lunch
Seating 11:30 am | Serve 12:00 noon
2023 W-ELCA Community Service Activities
Bethany Riverside Bingo
Date and Time: TBD
Bethany Riverside Birthday Party
Date and Time: TBD
Hillview Care Center Bingo
Date and Time: TBD
2023 W-ELCA Officers
President Sue Staples
Vice President Patti Hanson
Treasurer Patti Hanson
Secretary Carol Miller
Program & Publicity Patti Hanson
Greeting Card Table at Meetings Karen Geier
Quilting Doris Modahl and Martha Sesvold
Rummage Sales Doris Modahl and Carol Miller
Board Meetings are held the first Wednesday of the month at 10am.
2023 W-ELCA Serving Committees
May 18, 9:30 am – Breakfast Meeting
Serving Committee: Paula Tippery (Chair), Dottie Pierce, Connie Garson, Bev Schilling, and Lorraine Glanzer
June 15, 1:30 pm – Regular Meeting
Serving Committee: Barb Seidel (Chair) and Barb Clark
September 21, 9:30 am – Breakfast Meeting
Serving Committee: Sue Staples (Chair), Shirley Atchison, Elaine Lee, Dala Hynek, and Laura Sanborn
October 19, 1:30 pm – Regular Meeting
Serving Committee: Patti Hanson (Chair), Martha Sesvold, Linda Baehr, and Lois Losby
Contributing Member: Judy Sasse and Anna Duresky
November 16, 1:30 pm – "Thank Offering"
Serving Committee: Doris Modahl (Chair), Ardis Bolstad, Karen Geier, and Carol Miller