Sweet Potato Brownie Bites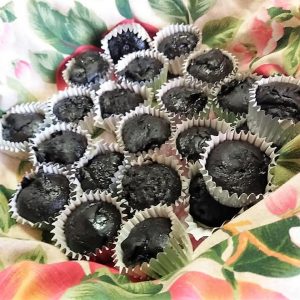 Servings: 24
Ingredients
1 large sweet potato
⅓ cup mini-chocolate chips
⅓ cup hot coffee
2 tablespoons butter (melted)
2 eggs
½ cup light brown sugar
1 teaspoon vanilla extract
½ cup all-purpose flour
½ teaspoon baking powder
¾ cup cocoa powder
½ teaspoon salt
Directions
Preheat oven to 350°.

Place a large sweet potato in a microwave and cook on high for 5 to 7 minutes or until completely softened. Scoop out of the flesh and discard the skin. Set aside 1 cup of flesh

Place the mini-chocolate chips in a bowl. Pour the hot coffee over the chocolate chips and stir to melt the chocolate. Set aside.

In a large bowl, stir together the reserved sweet potato, butter, eggs, sugar and vanilla. Add the chocolate coffee mixture to the sweet potato mixture and stir to combine.

In a separate bowl, whisk together the flour, baking powder, cocoa powder and salt. Add the dry ingredient mixture to the sweet potato mixture and stir just to combine.

Using a mini muffin tin, fill the cups ¾ of the way with brownie mixture. Place in the oven to bake for 8 minutes.
Tip
Heat up leftover coffee or espresso.

Alternatively, roast the sweet potato until fork tender, for a sweeter, more developed flavor.