Roasted Parmesan Herb Sweet Potatoes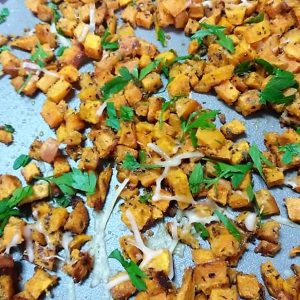 Prep Time: 10 mins
Total Time: 45 mins
Servings: 4
Ingredients
3 tablespoons olive oil
4 tablespoons grated Parmesan cheese
2 teaspoons Italian seasoning
1 teaspoon garlic powder
3  large sweet potatoes, peeled and diced into small cubes
parsley, for garnish (optional)
Directions
Preheat oven to 400ºF. Lightly coat a large baking pan with nonstick cooking spray or line with parchment paper. Set aside.
In a medium bowl, combine olive oil, Parmesan cheese, Italian seasoning, and garlic powder. Add diced potatoes and toss to coat.
Spread potatoes in an even layer onto prepared pan. Bake for 32–35 minutes, or until lightly browned and crispy. Remove from oven and let cool for 5 minutes.
Sprinkle with extra Parmesan cheese and parsley, if desired. Serve immediately.