Zucchini-Kale Muffins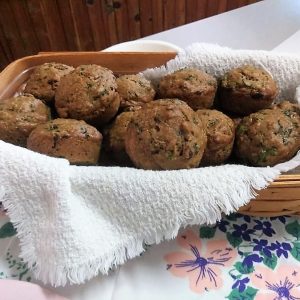 Makes 12 standard-sized muffins.
1 ½ c. grated zucchini (or yellow summer squash)
1 c. steamed or cooked kale, roughly chopped
2 eggs
1 c. sugar
1 tsp. vanilla
¼ c. oil
¼ c. applesauce
1 pinch salt
2 tsp. baking soda
3 c. flour (white, wheat or mixed)
1-2 tsp. cinnamon
1 c. chopped nuts and/or raisins (optional)
Preheat oven to 350°. Either oil muffin tins or put in paper cupcake liners. In large bowl, whisk eggs. Add sugar, vanilla, oil, applesauce and mix well. Fold in zucchini and kale and mix in . In another bowl, mix dry ingredients (except nuts/raisins.) Add dry ingredients to wet ingredients and mix just until combined. Fold in nuts/raisins, if using. Fill muffin cups 2/3 full with batter and bake for 25-30 minutes (or until muffins are springy to touch.) Let cool 20 minutes before removing from pan.