Italian Cauliflower Salad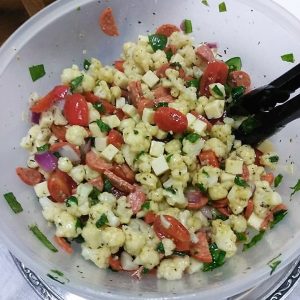 Ingredients
1 lb. cauliflower florets
8 oz. mozzarella cheese, diced
1 c. grape tomatoes
1 c. spinach, washed and dried
8 oz. pepperoni slices
¼ c. sliced red onion
½ c. green bell peppers
For the dressing
½ c. olive oil
Juice of 1 lemon
1 tsp. salt
1 tsp. oregano
1 tsp. basil
1 tsp. rosemary
1 clove garlic, minced
Chop the cauliflower into bite-sized pieces and place in a large microwave-safe bowl. Add 2 Tbsp. of water, cover with plastic wrap, and microwave for 3 minutes or until as tender as you'd like. Drain the liquid from the bowl.
Slice the grape tomatoes in half. Chop the spinach into small pieces. Cut the pepperoni slices in half.
Add the tomatoes, spinach, pepperoni, mozzarella, onion, and peppers to the bowl with the cauliflower.
In a small bowl, whisk together the olive oil, lemon juice, salt, oregano, basil, rosemary, and garlic until well combined. Taste and add additional lemon, herbs, or salt as desired.
Pour the dressing over the cauliflower salad and toss to coat.
Cover in the bowl and refrigerate for 2 hours to allow the flavors to meld before serving.