Nance's Baked Apple with Walnuts and Cinnamon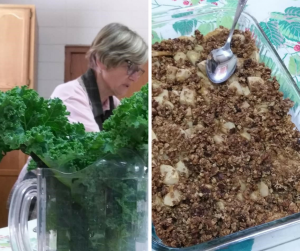 Prep time: 10 min • Cook time: 20 – 30 min • Yield: 6 servings
Ingredients
½ cup chopped walnuts
2 tablespoons chopped dates
1½ cups quick-cooking oats
1 tablespoon cinnamon
½ teaspoon nutmeg
1 teaspoon pure vanilla extract
¼ cup maple syrup
4 apples, peeled, cored, and sliced
Directions
Preheat the oven to 300

°

. Sprinkle a glass baking dish with a little water and then line it with parchment paper cut to fit the bottom of the dish.

Combine the walnuts, dates, oats, cinnamon, nutmeg, vanilla, and maple syrup in a small bowl.

Place the apple slices in the bottom of the lined baking dish. Top the apples with the oatmeal mixture.

Bake for 20 to 30 minutes or until the apples are soft.
Tip: Some of the best apples varieties for baking include Jonathan, Jonagold, Honeycrisp, and Granny Smith, all of which have a crisp, tart flavor and firmer flesh that hold up well to baking.