Fresh Herb, Tomato, and Caper Sauce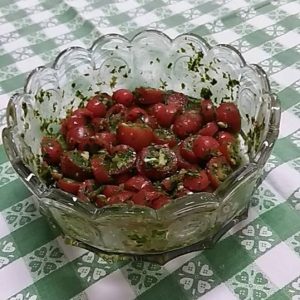 Ingredients
2 cups fresh Italian parsley
1/4 cup slices, toasted almonds
1/4 cup fresh oregano
2 Tbsp. lemon zest
2 Tbsp. drained capers
2/3 cup olive oil
1/4 cup lemon juice
1/2 tsp. salt
1/2 tsp. black pepper
4 finely chopped oil-packed sun–dried tomatoes
Directions
1. In a food processor combine 2 cups fresh Italian parsley; 1/4 cup slices, toasted almonds; 1/4 cup fresh oregano; and 2 Tbsp. lemon zest.  Cover and pulse until finely chopped.
2. Add 2 Tbsp. drained capers, pulse to combine.
3. Add 2/3 cup olive oil, 1/4 cup lemon juice, and 1/2 tsp. each salt and black pepper; pulse until a saucy paste forms.
4. Stir in 4 finely chopped oil-packed sun–dried tomatoes.
5. Use it on crostini, toss it with fresh tomatoes and chunks of mozzarella over your favorite pasta, or spoon it over just about any piece of meat you throw on the grill.
Notes
Divvy up 1/4 cup servings into airtight containers; freeze up to 1 month.