Cream of Asparagus Soup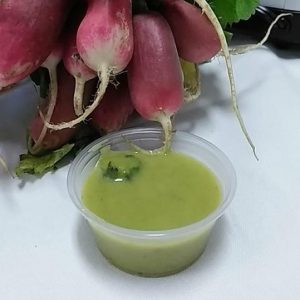 Ingredients
2 lbs. green asparagus
1 large onion
3 tablespoons butter
5 – 6 cups chicken broth
1/2 cup heavy cream
1/4 teaspoon lemon juice, or to taste
Preparation
Cut tips from asparagus. Add after soup is prepared.
Cut stalks into 1/2 inch pieces.
Cook onions in 2 tablespoons butter in a 4 qt. heavy pot, stirring until softened. Add asparagus and salt and pepper to taste, then cook stirring 5 minutes. Add 5 cups of broth and simmer, covered until asparagus is very tender, 15 – 20 minutes.
In the meantime, place tips in salted, boiling water and cook until just tender, 3 – 4 minutes. Drain.
Puree soup in blender in batches and return to pan. Stir in cream, then add more broth to desired consistency. Season. Bring to a boil and whisk in remaining tablespoon of butter.
Add lemon juice and garnish with asparagus tips.