Art & Faith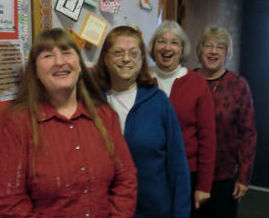 Meeting for over eight years, Art and Faith is a fellowship group that makes cards for our shut-ins and congregation members who are in the military. We gather on the third Thursday of the month at 7 PM in the Fellowship Hall to make approximately 50 cards and prepare them for mailing. Cards are designed by Loie Burch and Debbie Dukatz. Rachel Balow and Colleen Pitz are faithful committee members. Depending on the time of year, some cards are made for specific holidays and others are just a reminder to our shut-ins and military that their congregation remembers them.
We welcome addresses for active duty personnel and guard or reserve who are currently activated. Please share their address with the church office so they can receive cards from Art and Faith. Thank you to Dorcas for generously supplying stamps for mailing the cards. Any other donations received are used to offset the costs of card making supplies such as paper, stamps, and envelopes. Some of the cards are on display on a bulletin board inside the Fellowship Hall entrance to the church.
You can be a part of this ministry! Come to any meeting. We will teach you all that you need to know! If you have questions, call Debbie or Loie.