Luther College/Stone Soup Sunday on October 31st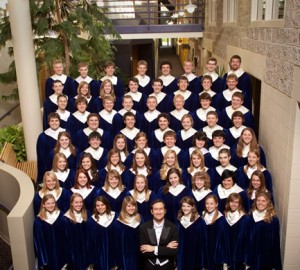 Our Savior's 150th Anniversary celebration continues on October 31st with Luther College/Stone Soup Sunday. Worship is at a special time (10:30 am) with guest speaker Richard L. Torgerson, President of Luther College.
Nordic Choir will also perform under the direction of Dr. Craig Arnold. A Stone Soup lunch will be served in the Fellowship Hall at 11:45 am following worship.
Richard L. Torgerson became president of Luther College in July, 1999. He was born in Saskatoon, Saskatchewan, Canada, on July 26, 1943. His father operated a wheat farm, and his mother was a school teacher. Rick left the family farm to attend college at Concordia College in Moorhead, Minnesota, where he completed a bachelor's degree with majors in biology and physical education. He then completed a master's degree in entomology in 1966 and a doctorate in entomology and zoology in 1969. There followed thirty years of teaching and administrative work at five different colleges prior to coming to Luther College—three years as assistant professor of biology at Wartburg College; ten years on the faculty of biology at Texas Lutheran College, the final two years there serving as assistant dean for academic affairs; three years as vice president for academic affairs and academic dean at Baker University, Baldwin, Kansas; seven years as vice president and academic dean at Bethany College in Lindsborg, Kansas, including a year as acting president; six years as vice president for development at Wartburg College; and a year-and-a-half as vice president for development at Gustavus Adolphus College.

Nordic Choir, founded in 1946, enjoys national and international acclaim as a premier collegiate choral ensemble in the United States. Following the 57-year tenure of Weston Noble, Nordic Choir is currently under the direction of Dr. Craig Arnold, named director of choral activities at Luther College in 2005. Nordic Choir is Luther's flagship choir in a choral program that comprises three upper-class mixed touring choirs, two first-year choirs, and an upper-class women's choir.

Stone Soup – Our Savior's Lutheran Church will be enacting the story called "Stone Soup." During the service, the story will be read and then the congregation will feast on Stone Soup after church. That day we will ask people to bring a quart container of vegetables ready to be thrown in a beef, chicken, or vegetarian broth for Stone Soup. (Chopped up potatoes or carrots or fresh or frozen peas are most needed. We could also use some chopped up celery, parsnips, turnips, or onions.) There will be enough soup for everyone if you forget your vegetables at home. If you have any questions, please contact Dan Lintin.