Sunday School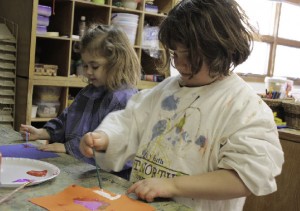 Sunday School is the Christian Education program for children ages Pre-K through the 5th grade here at Our Savior's Lutheran Church on Sunday morning Children gather together for storytelling and interactive activities to learn about the Bible and God's love. Families can enjoy Fellowship time together after worship; children meet from 10:30 to 11:00 for Sunday School.
WHY DOES INTERACTIVE SUNDAY SCHOOL WORK?
Because the various activities teach through a different style of learning, the kids don't get bored. Instead, this multiple intelligence approach enhances the learning process. Children come to know God through a variety of ways. For God's word to become part of our children's lives, it must not just be heard or read, but also experienced. The lesson plan provides links from the Bible to the present, making the Bible applicable to children's lives, and children learn that the Bible is vital to the way they live their lives.
Our mission is to shape children into active Christians who live the Bible rather than just know it.
To enroll your child or to find out more about volunteering at Our Savior's Sunday School, please contact us!