Call Committee
The Committee has been meeting faithfully since June and we are pleased to share that we have completed and submitted the Ministry Site Profile (MSP) document. The MSP is an extensive report that captures the trends and gifts of Our Saviors, as well as our priorities for ministry and a new pastor.
Following the steps of the call process, we presented the MSP to the Council and it was approved  unanimously. It was then forwarded to the Synod Office and approved by Bishop Arends, who activated the MSP on the ELCA data base. Now it is available for review by potential candidates seeking a call.
At this point, the Call Committee's task is to work on questions and preparations for the interview. In the meantime, we await the Synod Office to forward candidates' names to us and ask for you to join us in praying for the Bishop as he discerns the selections.
The Call Committee will provide a report at the Annual Meeting, including any updates we can share and a summary of the Ministry Site Profile.
If you have any questions, feel free to contact any committee member or the chair, Chris Krueger, at 386-3770 or otateacher@gmail.com .  Your Call Committee members are: Deb Daehn-Zellmer, Debbie Dukatz, Justin Pitz, Bruce Losby, Scout Zinniel, Paula Tippery, Katherine Sandy and Nancy Pohlman (alternate: Dan Lintin).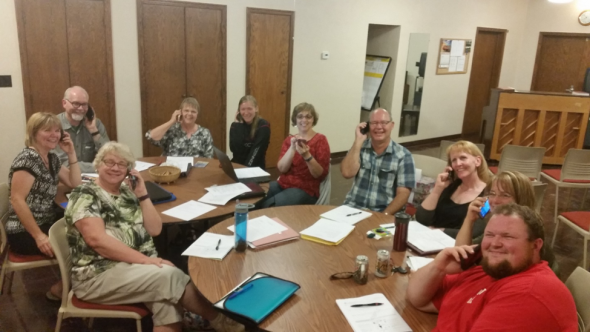 Your "Call" Committee at work!  🙂